210-340-9508

Immediate Results

SADryerventCleaning
(at) gmail.com

210-340-9508

Do you live outside of the San Antonio area?
Click Here
Why clean your dryer vent?


Do Your Clothes Take Longer Than 30 Minutes to Dry?

If your dryer is getting warm, or hot, to the touch, then the problem is NOT your clothes dryer.

Your Dryer Vent is clogged or restricted and needs to be cleaned out.

This is not the lint screen that you clean after each dryer load.
It is the duct pipe that runs from your laundry room, inside your walls and terminates either through the roof or a side wall.

Other symptoms are:
* Clothes dryer getting too hot
* Excessive lint in your laundry room
* Heating element cuts off intermittantly
* Laundry room is overly hot or humid
* Lint collecting on a small area of the
lint screen, or on the back of the
screen

I am a Certified Dryer Exhaust Technician and will come to your home or business to clean out your dryer vent.
I am very reliable and dependable and will call you if I am running ahead of, or behind, schedule.

210-340-9508

I have all the proper tools for a thorough job.
I am professional and I finish the job quickly and without excuses.
I make enough money, so I don't need to steal from your home.

I carry liability insurance in case I cause damage to your home, although that has never happened.

I am a member of the Dryer Vent Cleaners of America.

I am not the lowest price in the San Antonio area, but I am one of only 2 Certified Dryer Exhaust Technicians and the only one who does only dryer vent cleaning, not chimney sweeping or air duct cleaning or plumbing, or whatever; so I won't try to get you to spend more money with me on an unrelated service.



My cleaning process involves a spinning brush and rod system which scrapes off as much lint as possible, unlike many other "dryer vent cleaners" who simply attach a blower to one end of the dryer vent and turn it on for a minute hoping for the best.

The clean up of the lint that comes out of the dryer vent is the responsibility of the homeowner. I will clean up the larger pieces of lint that I can safely reach, but I never get all of it. This is lint that would have come out over time had the vent been clean.


Appointments are scheduled as soon as our schedules permit with these parameters:

Scheduling is based on weather.

On hot days, all appointments will be scheduled to be completed before the temperature is forecast to reach 80 degrees.

On cold days, appointment times will start when the temperature will be over 50 degrees.

On wet and very windy days, appointments will be rescheduled to another day.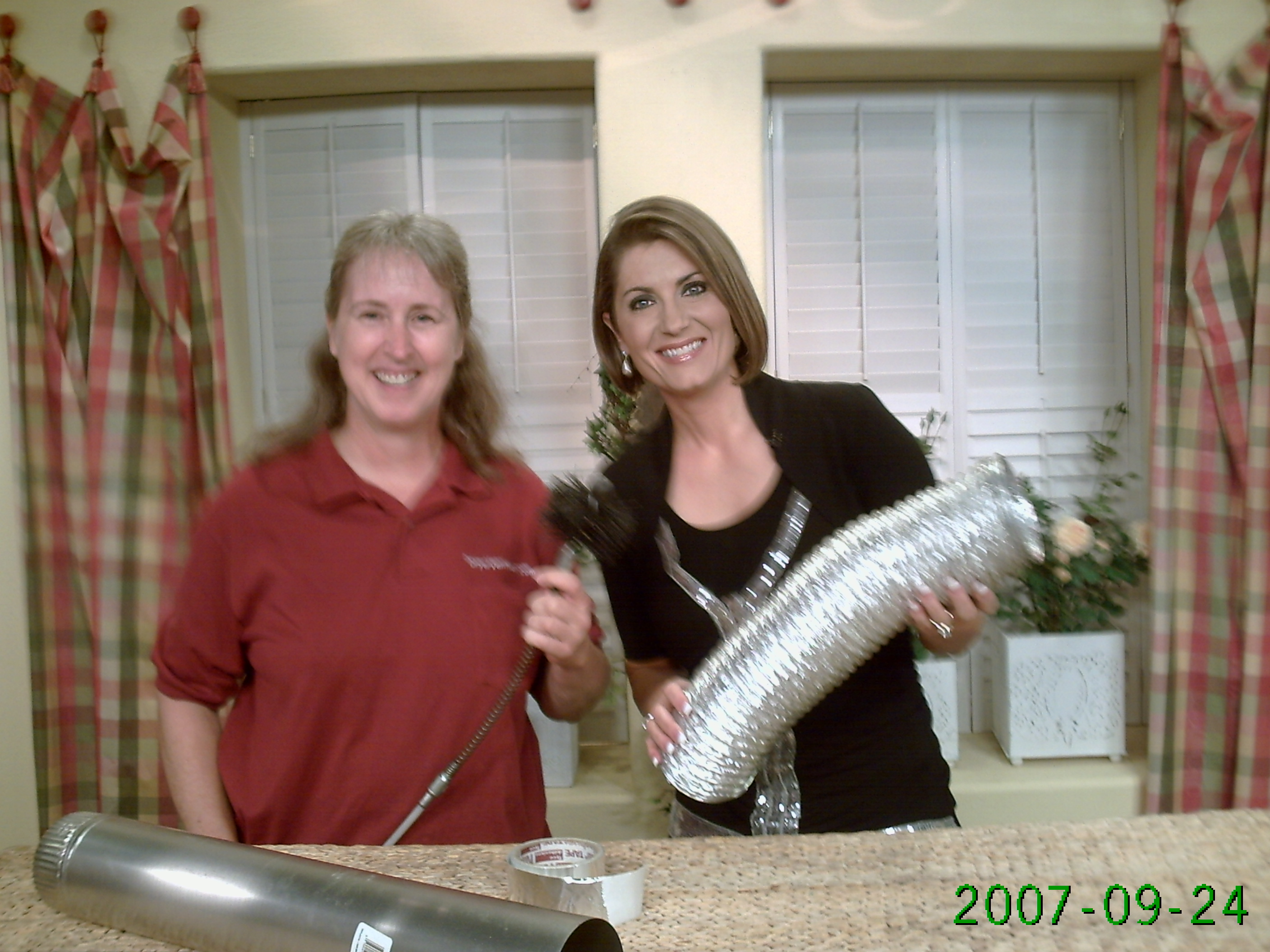 Here is a picture of Leslie Bohl Jones on
WOAI Channel 4's San Antonio Living.
AND
Services and Pricing <<


Dryer Vent Cleaning in the San Antonio area for residents and business owners.

Pricing
Homes
Dryer Vent runs through the side of the home and terminates less than 4 feet off the ground: $88

Dryer Vent runs through a 1 story roof: $98

Dryer vent runs through a 2 story roof and it is accessible: $120-200


Dryer vent runs between the 1st and 2nd story out the side wall over 4 feet off the ground: $145.

These charges are based on accessible work areas and walkable roofs.

If work must be performed in the attic, a minimum of $25 extra will be charged.
Work in the attic is necessary if the dryer vent pipe is broken or has come apart, or if the roof is too steep to work from, or your home has an inaccessible cap.

If joints must be taped/retaped, a charge of $10/joint will be charged in addition to the attic work charge.

If there is not a functioning clothes dryer, a portable blower will be used at an additional charge of $18.

If your vent has wet lint, there is a minimum $40 extra charge, and a re-visit is necessary, there is an additional charge of $40.

If there is standing water in the vent that needs to be removed, the water extraction charge starts at $25.

If there is the need to call in a helper to move a stacked dryer, there is a $35 extra charge (this is not a common occurance)

Minor repairs will be bid and completed on the same trip.

Major repairs will be diagnosed and bid on if the cleaning cannot be completed due to design flaw or damage.
$68 diagnosis/trip charge can be applied to repairs if completed within 30 days of estimate.

Bird Guards installed: $35 in wood, $50 in brick or stucco.
These prices are valid for installation at the same time as the cleaning.

Metal Transition duct in (the accordian duct that attaches to the back of your dryer and the wall outlet, which should be metal, not vinyl...) installed $15.
This price is valid for installation at the same time as the cleaning.

There may be a fuel surcharge if the travel time is greater than normal.
You will be advised in advance if this is the case.

Our tools are specifically design to work with, and not damage, properly installed dryer vents.
We try to confirm that this is the case before we start cleaning.
Since the dryer vent is usually hidden in the walls, this is not always possible.

If your dryer vent is not sound, and becomes dislodged during the normal cleaning process, repair charges will be estimated.

This repair is the responsibility of the homeowner, not Dryer Vent Lady.

This does not happen very often, but when it does we will work with you to get the issue resolved quickly.

Our diagnosis charge of $68 will be due.
This charge can be applied to repair work performed within 30 days of the diagnosis trip.



Commercial Dryer Vents
Commercial dryer vents are so unique that there is no way to list standard prices.
These will be bid individually with a minimum of $125.


JennAire-type down drafts and
stove fan vents
Do you have a bad odor coming from your stove vent?
Many times this is the result of an animal making a home in your home!
These cleanouts will be bid individually with a minimum charge of $150.